Chapter 12: The Promise of Blessings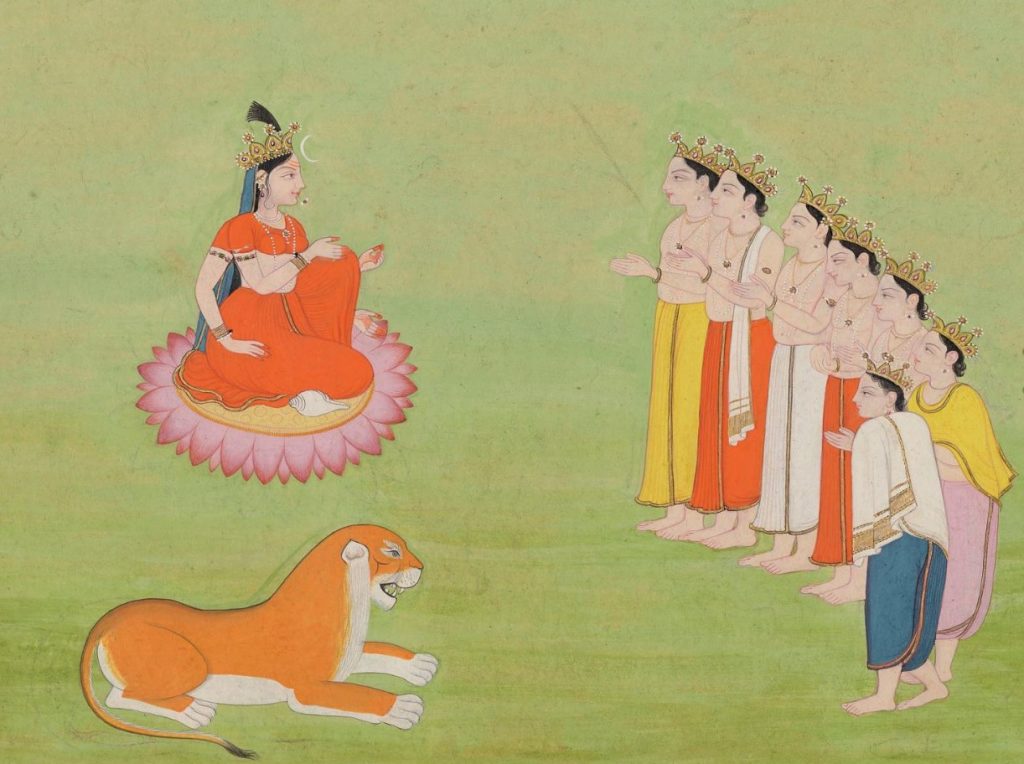 Devy Uvāca 
12.1 The Devī Said: 
ebhiḥ stavaiś Ca Māṁ Nityaṁ stoṣyate yaḥ samāhitah 
TasyāHaṁ sakalām bādhāṁ Nāsayiṣyāmy asaṁśayam 
12.2 "I Shall Without Doubt Destroy every misfortune of those who with collected mind will Praise Me always with these Hymns. 
madhukaiṭabhanāśam ca mahiṣāsuraghātanam 
kīrtayiṣyanti ye tadvad vadhaṁ śumbhaniśumbhayoḥ 
12.3 Those who recite the destruction of madhu and kaiṭabha, the killing of mahiṣāsura, and the slaying of śumbha and niśumbha 
aṣṭamyāṁ ca caturdaśyāṁ navamyāṁ caikacetasaḥ 
śroṣyanti caiva ye bhaktyā Mama Māhātmyam Uttamam 
12.4 with singleness of mind on the eighth, fourteenth, and ninth days of the lunar fortnight, and those who listen with devotion to This Supreme Poem of My Glory 
na teṣāṁ duṣkṛtaṁ kiñcid duṣkṛtotthā na cāpadaḥ 
bhaviṣyati na dāridryaṁ na caiveṣṭaviyojanam 
12.5 will have no evil befall them, nor any misfortunes arising from wrongdoing. For them there will be neither poverty nor separation from loved ones, 
śatruto na bhayaṁ tasya dasyuto vā na rājataḥ 
na śastrānalatoyaughāt kadācit sambhaviṣyati 
12.6 nor danger from enemies, robbers, or kings. Nor at any time will danger arise from weapons, fire, or flood. 
tasmān Mamaitan Māhātmyaṁ paṭhitavyaṁ samāhitaiḥ 
śrotavyaṁ ca sadā bhaktyā Paraṁ Svastyayanaṁ Hi Tat 
12.7 Therefore this poem of My Glory is to be recited by those of concentrated mind and heard always with devotion, for it is the Supreme Way to Well-Being. 
upasargān aśeṣāṁs tu mahāmārīsamudbhavān 
tathā trividham utpātaṁ Māhātmyaṁ Śamayen Mama 
12.8 May this Glorification of Mine put to rest all misfortunes born of pestilence, and also the three kinds of calamity. 
yatraitat paṭhyate samyaṅ nityam āyatane Mama 
sadā na tad vimokṣyĀmi Sānnidhyaṁ tatra Me Sthitam 
12.9 Where It is always and rightly recited in My Sanctuary, that place Shall I Never Abandon. There My Presence Is Abiding. 
balipradāne püjāyām agnikārye mahotsave 
Sarvaṁ Mamaitac Caritam uccāryaṁ śrāvyam eva ca 
12.10 In the offering of oblations, in worship, in the fire ceremony, and in the great festival, All These Deeds Of Mine Are To Be Proclaimed and Heard. 
jānatājānatā vāpi balipūjāṁ tathā kṛtām 
Pratīcchiṣyāmy Ahaṁ Prītyā VahnihoMaṁ tathākṛtam 
12.11 When offerings are made in worship, with or without proper knowledge, I Shall Receive Them Gladly and also the fire oblation performed in like manner. 
śaratkāle mahāpūjā kriyate yā ca vārṣikī 
tasyāṁ Mamaitan Māhātmyaṁ śrutvā bhaktisamanvitaḥ 
12.12 At the great annual worship which is performed in the autumn season, those who hear This Poem of My Glory and are filled with devotion 
sarvābādhāvinirmukto dhanadhānyasutānvitaḥ 
manuṣyo matprasādena bhaviṣyati na saṁśayaḥ 
12.13 will be Freed by My Grace from all afflictions and Endowed with wealth, grain, and progeny. Of this there is No Doubt. 
śrutvā Mamaitan Māhātmyaṁ tathā cotpattayaḥ śubhāḥ 
parākraMaṁ ca yuddheṣu jāyate nirbhayaḥ pumān 
12.14 Hearing of My Glory, My Auspicious Manifestations, and My Prowess in battles, they become fearless. 
ripavaḥ samkṣayaṁ yānti kalyāṇaṁ copapadyate 
nandate ca kularh puṁsāṁ Māhātmyaṁ Mama śṛṇvatām 
12.15 For those who hear My Glorification, their adversaries go to utter destruction. Well-Being comes to them, and their families rejoice. 
śāntikarmaṇi sarvatra tathā duḥsvapnadarśane 
grahapīḍāsu cogrāsu Māhātmyaṁ śṛṇuyān Mama 
12.16 For those troubled by nightmares or the ill-boding of stars, at rituals for Averting Evil This Poem Of My Glory should always be heard. 
upasargāḥ śamaṁ yānti grahapīḍāś ca dāruṇāḥ 
duḥsvapnaṁ ca nṛbhir dṛṣtaṁ susvapnam upajāyate 
12.17 It Causes misfortunes and evil portents to Subside, and It Turns nightmares into sweet dreams. 
bālagrahābhibhūtānāṁ bālānāṁ śāntikārakam 
saṅghātabhede ca nṛṇāṁ Maitrīkaraṇam Uttamam 
12.18 It Pacifies children overcome by seizures, and wherever discord divides, It Best Restores Friendship. 
durvṛttānām aśeṣāṇāṁ balahānikaraṁ paraṁ 
rakṣobhūtapiśācānāṁ paṭhanād eva nāśanam 
12.19 It Is Unsurpassed In Diminishing the might of all evildoers. Truly Its Recitation Brings about the destruction of fiends, ghosts, and ghouls. 
sarvaṁ Mamaitan Māhātmyaṁ Mama sannidhikārakam 
12.20 This Entire Glorification Of Mine Draws one near to Me. 
 
paśupuṣpārghyadhūpaiś ca gandhadīpais tathottamaiḥ 
viprāṇāṁ bhojanair homaiḥ prokṣaṇīyair ahamiśam 
12.21 As by the offerings of finest cattle, flowers, gifts, incense, perfumes, and lights, made day and night for a year; and as by the feeding of Brāhmaṇas, by oblations, by consecrated water; 
anyaiś ca vividhair bhogaiḥ pradānair vatsareṇa yā 
Prītir Me Kriyate sāsmin sakṛt sucarite śrute 
12.22 and as by diverse other propitiations and offerings; so also by Hearing the Recital of My Auspicious Deeds Am I Pleased. 
śrutaṁ harati pāpāni tathārogyaṁ prayacchati 
rakṣāṁ karoti bhūtebhyo Janmanāṁ Kīrtanaṁ Mama 
12.23 When Heard, This Poem of My Glory Removes Impurities and Grants Freedom from disease. The Relating of My Births Confers Protection from evil spirits. 
Yuddheṣu Caritaṁ Yanme duṣṭadaityanibarhaṇam 
Tasmiñc chrute vairikṛtaṁ bhayaṁ puṁsāṁ na jāyate 
12.24 Since It Recounts My Deeds In Battle, Crushing the wicked daityas, when Heard, It Dispels all fear of enemies. 
yuṣmābhiḥ stutayo yāś ca yāś ca brahmarṣibhiḥ kṛtāḥ 
brahmaṇā ca kṛtās tās tu prayacchanti śubhāṁ matim 
12.25 Praises Uttered by you and The Brāhmanical seers and by Brahmā himself Produce an auspicious mind. 
Araṇye Prāntare vāpi Dāvāgniparivāritaḥ 
dasyubhir vā vṛtaḥ śūnye gṛhīto vāpi śatrubhiḥ 
12.26 When in a Forest, or on a lonely road, or surrounded by a Forest fire, when encircled by robbers in a desolate place or seized by enemies, 
simhavyāghrānuyāto vā vane vā vanahastibhiḥ 
rājñā kruddhena cājñapto vadhyo bandhagato 'pi vā 
12.27 when stalked by lions and tigers or wild elephants in the jungle, when imprisoned or sentenced to death by a wrathful king, 
āghūrṇito vā vātena sthitaḥ pote mahārṇave 
patatsu cāpi śastreṣu saṁgrāme bhṛśadāruṇe 
12.28 when in a wind-tossed boat on the mighty sea or assailed by hurtling weapons in the midst of battle, 
sarvābādhāsu ghorāsu Vedanābhyardito 'pi vā 
Smaran Mamaitac Caritam Naro Mucyeta Saṅkaṭāt 
12.29 when caught in dreadful straits or tormented with agony, whoever remembers These Deeds Of Mine is freed from danger. 
Mama Prabhāvāt siṁhādyā dasyavo vairiṇas tathā 
dūrād eva palāyante smarataś Caritaṁ Mama 
12.30 By My Power, lions and beasts, robbers and enemies flee far Away from one who remembers These Deeds Of Mine." 
ṛṣir uvāca 
12.31 The seer said: 
ity uktvā sā Bhagavatī Caṇḍikā Caṇdavikramā 
paśyatām eva devānāṁ tatraivāntaradhīyata 
12.32 "Having spoken thus, The Blessed Caṇḍikā, Fierce In Valor, Vanished from the sight of the Gods. 
te 'pi devā nirātaṅkāḥ svādhikārān yathā purā 
yajñabhāgabhujaḥ sarve cakrur vinihatārayaḥ 
12.33 Their enemies Struck Down, The Gods were Delivered from affliction. They reclaimed their own dominions as before, and all partook of their shares in the sacrifices. 
daityāś ca Devyā nihate śumbhe devaripau yudhi 
jagadvidhvamsini tasmin mahogre 'tulavikrame 
12.34 As for the daityas, after The Devī Had Slain in battle those two enemies of the gods— śumbha, the afflictor of the world, terribly fierce and unequaled in prowess, 
niśumbhe ca mahāvīrye śeṣāḥ pātālam āyayuḥ 
12.35 and niśumbha, great in valor—the rest of them returned to the netherworld. 
evaṁ Bhagavatī Devī sā nityāpi punaḥ punaḥ 
sambhūya kurute bhūpa jagataḥ paripālanam 
12.36 Thus, O king, Does The Blessed Devī, Though Eternal, Manifest Again and Again for the Protection of the world. 
Tayaitan Mohyate Viśvaṁ Saiva Viśvaṁ Prasūyate 
sā yācitā ca vijñānaṁ tuṣṭā ṛddhiṁ Prayacchati 
12.37 By Her this universe is Deluded. She Herself Brings Forth everything. Entreated, She Bestows Right Knowledge; Propitiated, She Bestows Prosperity. 
vyāptaṁ tayaitat sakalaṁ brahmāṇḍaṁ manujeśvara 
Mahākālyā Mahākāle MahāmārīSvarūpayā 
12.38 O king, By Her all this universe Is Pervaded, By MahāKālī, Who Takes Form As The Great Destroyer at the end of time. 
Saiva Kāle Mahāmārī Saiva Sṛṣṭir Bhavaty Ajā 
Sthitiṁ Karoti Bhūtānāṁ Saiva Kāle Sanātanī 
12.39 At that time, She Herself Is The Great Destroyer. Existing From all eternity, She Herself Becomes The Creation. She, The Eternal One, Sustains all beings. 
 
bhavakāle nṛṇāṁ saiva lakṣmīr vṛddhipradā gṛhe 
saivābhāve tathālakṣmīr vināśāyopajāyate 
12.40 In times of well-being She Is Indeed Good Fortune, Granting prosperity in the homes of humankind. In times of privation, She Exists As Misfortune, Bringing About ruin. 
stutā sampūjitā puṣpair dhūpagandhādibhis tathā 
dadāti vittaṁ putrāṁś ca matim dharme gatim śubhām 
12.41 And so, Praised and Worshiped with flowers, incense, perfumes, and the like, She Grants wealth, progeny, and a pure mind established in righteousness."