Chapter 6: The Slaying of Dhūmralocana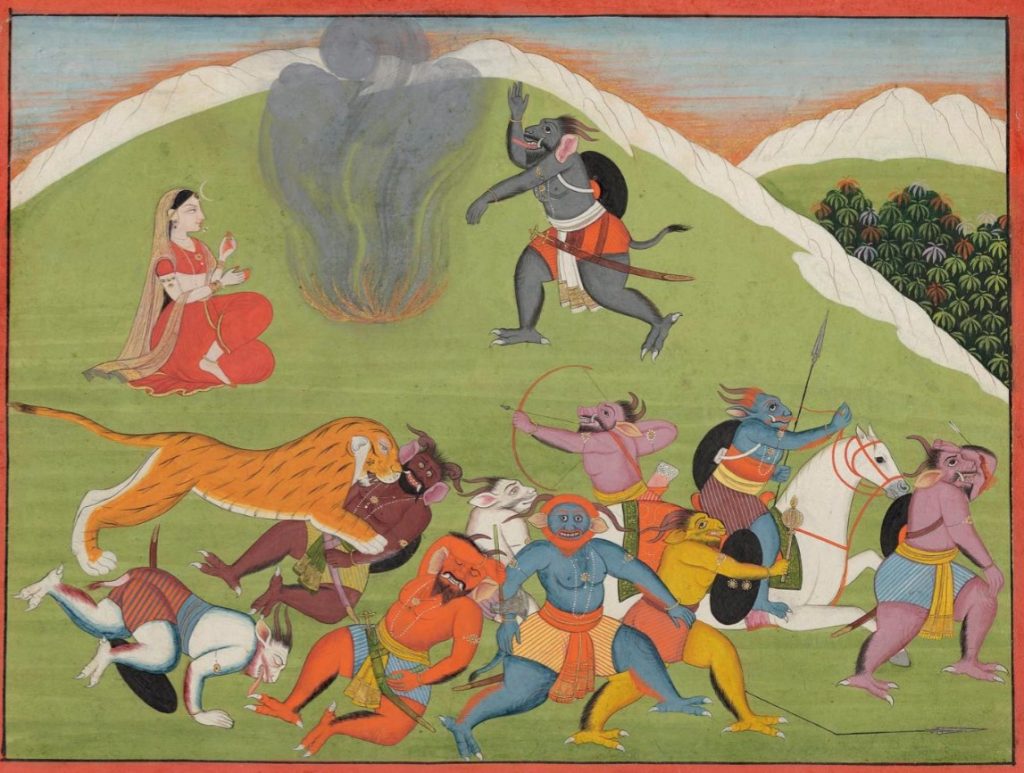 ṛṣir uvāca
6.1 The seer said:
ity ākamya vaco Devyāḥ sa dūto 'marṣapūritaḥ
samācaṣṭa samāgamya daityarājāya vistarāt
6.2 "On hearing the Devī's words, the messenger was filled with indignation. He returned to the king of the daityas and related everything in great detail.
tasya dūtasya tad vākyam ākarṇyāsurarāṭ tataḥ
sakrodhaḥ prāha daityānām adhipaṁ dhūmralocanam
6.3 On hearing his messenger's report, the asura king grew enraged and said to Dhūmralocana, the chieftain of the daityas:
he dhūmralocanāśu tvaṁ svasainyaparivāritaḥ
tām ānaya balād duṣṭāṁ keśākarṣaṇavihvalām
6.4 'Dhūmralocana, hasten with your army and bring that vile woman here by force, dragging her by the hair, kicking and screaming.
at paritrāṇadah kaścid yadi vottiṣṭhate 'parah
sa hantavyo 'maro vāpi yakṣo gandharva eva vā
6.5 If anyone rises up to save her, even a god or other celestial being, he is to be slain.'"
ṛṣir uvāca
6.6 The seer said:
tenājñaptas tataḥ śīghraṁ sa daityo dhūmralocanaḥ
vṛtaḥ ṣaṣṭyā sahasrāṇām asurāṇām drutaṁ yayau
6.7 "Commanded thus by Śumbha, the daitya Dhūmralocana quickly set off, accompanied by sixty thousand asuras.
sa dṛṣṭvā tāṁ tato Devīṁ tuhinācalasaṁsthitām
jagādoccaiḥ prayāhīti mūlaṁ śumbhaniśumbhayoḥ
6.8 And when he saw the Devī stationed on the snowy mountain, he thundered, 'Come to the presence of Śumbha and Niśumbha.
na cet prītyādya bhavatī madbhartāram upaiṣyati
tato balān nayāmy eṣa keśākarṣaṇavihvalām
6.9 And if Her highness will not come in gladness to my master now, then I will take Her by force, dragging Her by the hair, kicking and screaming.'
Devy uvāca
6.10 The Devī said:
daityeśvareṇa prahito balavān balasamvṛtaḥ
balān nayasi mām evaṁ tataḥ kiṁ te karomy aham
6.11 'You who are sent by the lord of the daityas are mighty yourself and accompanied by your army. If you take me by force, what can I do to you?'"
ṛṣir uvāca
6.12 The seer said:
ity uktaḥ so 'bhyadhāvat tāṁ asuro dhūmralocanaḥ
huṅkāreṇaiva taṁ bhasma sā cakārāmbikā tataḥ
6.13 "Thus addressed, the asura Dhūmralocana rushed at Her. Thereupon, with a
contemptuous outcry, Ambikā reduced him to ashes.
atha kruddhaṁ mahāsainyam asurāṇāṁ tathāmbikām
vavarṣa sāyakais tīkṣṇais tathā śaktiparaśvadhaiḥ
6.14 The great army of asuras, now provoked, rained sharp arrows, spears, and axes upon Ambikā.
tato dhutasaṭaḥ kopāt kṛtvā nādaṁ subhairavam
papātāsurasenāyāṁ siṁho Devyāḥ svavāhanaḥ
6.15 Then the lion, the Devī's mount, angrily shook its mane. Emitting a terrifying roar, it fell upon the demon army.
āṁścit karaprahāreṇa daityān āsyena cāparān
ākrāntyā cādhareṇānyān sa jaghāna mahāsurān
6.16 With blows of its paws, it slew some daityas and crushed others in its jaws. And it trampled other great asuras under its hind legs.
keṣāñcit pāṭayāmāsa nakhaiḥ koṣṭhāni kesarī
tathā talaprahāreṇa śirāṁsi kṛtavān pṛthak
6.17 With its claws, the lion tore into the entrails of some and beheaded others with the stroke of a paw.
vicchinnabāhuśirasaḥ kṛtās tena tathāpare
papau ca rudhiraṁ koṣṭhād anyeṣām dhutakesaraḥ
6.18 It tore the arms and heads off others still, and tossing its mane, it lapped up the blood from the bellies of others.
kṣaṇena tad balaṁ sarvaṁ kṣayaṁ nītaṁ mahātmanā
tena kesariṇā Devyā vāhanenātikopinā
6.19 In an instant that noble, infuriated lion which bore the Devī wreaked destruction on all that army.
śrutvā tam asuraṁ Devyā nihataṁ dhūmralocanam
balaṁ ca kṣayitaṁ kṛtsnaṁ Devīkesariṇā tataḥ
6.20 When he heard that the Devī had slain the asura Dhūmralocana and that Her lion had destroyed his entire army,
cukopa daityādhipatiḥ śumbhaḥ prasphuritādharaḥ
ājñāpayāmāsa ca tau caṇḍamuṇḍau mahāsurau
6.21 Śumbha, the king of daityas, shook with rage. His lower lip quivering, he commanded the two great asuras, Caṇḍa and Muṇḍa:
he caṇḍa he muṇḍa balair bahulaiḥ parivāritau
tatra gacchataṁ gatvā ca sā samānīyatāṁ laghu
6.22 'Caṇḍa! Muṇḍa! Go there with immense forces, and bring Her here at once,
keśeṣvākṛṣya baddhvā vā yadi vaḥ saṁsayo yudhi
tadāśeṣāyudhaiḥ sarvair asurair vinihanyatām
6.23 seizing Her by the hair or tying Her up. But if you hesitate to do this, then let all the asuras with all their weapons strike Her down in battle.
tasyāṁ hatāyāṁ duṣṭāyām simhe ca vinipātite
śīghram āgamyatāṁ baddhvā gṛhītvā tāṁ athāmbikām
6.24 When that vile Woman has been wounded and Her lion slain, seize Her, bind Her, and bring Her here without delay!"'